Judge Richard P. Conaboy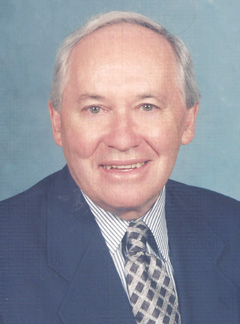 Judge Richard P. Conaboy, 93, of Scranton, died Friday at Regional Hospital of Scranton with his wife, the former Marion J. Hartnett, holding his hand, and surrounded by his 12 children, 10 living sons-in-law and daughters-in-law and countless grandchildren.
Born in Minooka, he was the son of the late Michael J. and Rosetta Walsh Conaboy. He was a member of St. Francis of Assisi Church until its closing and later St. Paul of the Cross Parish at Sacred Hearts of Jesus and Mary Church in South Scranton. Upon graduation from the University of Scranton in 1945, Judge Conaboy joined the United States Army Air Force and rose to the rank of sergeant before his honorable discharge in 1947. Judge Conaboy's life in the "law business," as he always referred to the legal profession, began when he entered the Columbus School of Law, Catholic University of America, from which he graduated in 1950. With his law degree in hand, Judge Conaboy returned from Washington to his hometown of Scranton, a city he loved deeply and where he lived the rest of his days.
Upon returning to Scranton, he engaged in the private practice of law. Throughout his legal career, Judge Conaboy spoke often and appreciatively of his many early mentors and always made time in his busy life to mentor those who came after him. During his years in private practice, Judge Conaboy was interested and involved in all aspects of community life. Judge Conaboy served a term as president of the Scranton School Board, where he was a member from 1950 to 1959. He worked vigorously for the Democratic party and served as president of the Young Democrats and later as chairman of the Lackawanna County Democratic Party. Judge Conaboy worked tirelessly for causes and candidates he believed in, including enthusiastic and effective participation in John F. Kennedy's presidential campaign.
Having distinguished himself through 12 years of private practice at the Lackawanna County Bar, Gov. David Lawrence asked Judge Conaboy to fill a vacancy on the Court of Common Pleas of Lackawanna County in 1962, a position to which he was subsequently elected and re-elected. He was a member of that court for 17 years and ultimately served in the capacity of president judge from 1972 to 1979. During his time on the State Court, Judge Conaboy led an effort to create standardized sentencing guidelines for judges across the Commonwealth. In recognition of this effort, Gov. Milton Shapp appointed Judge Conaboy to serve as chairman of the Pennsylvania Commission on Sentencing in 1975. Judge Conaboy's concern for insuring that every citizen received equal treatment under the law was the hallmark of his judicial philosophy.
In 1979, President Jimmy Carter nominated Judge Conaboy to the position of United States District Judge for the Middle District of Pennsylvania. Upon approval of the United States Senate, Judge Conaboy joined the federal bench where he served with distinction for 39 years. His dedication to his job is exemplified by the fact that he was at the office reviewing cases and attending to his judicial duties on the day before he was stricken ill.
Judge Conaboy served as chief judge of the Middle District of Pennsylvania from 1992 to 1998. Judge Conaboy's lifelong concern for fairness in sentencing and all aspects of the law was recognized by
President Bill Clinton in his appointment of Judge Conaboy to the position of Chairman of the United States Sentencing Commission. Judge Conaboy served in that capacity from 1994 to 1998.
During his tenure on both the state and federal courts, Judge Conaboy had a profound impact on the lives and legal careers of more than 40 law clerks as well as many others in the legal profession. This legacy and his passion for the law were infectious as also reflected in the number of family members who pursued the "law business" in their own lives. Lawyers who practiced before Judge Conaboy commonly observed that it was a pleasure to appear before him because of his deference to both lawyers and litigants. He was known for unfailing patience, extensive knowledge of the law and the deep respect he displayed for everyone he encountered. He was also a renowned raconteur with a unique ability to lighten a tense situation or entertain a gathering with his inimitable brand of local humor.
In his lifelong commitment to education, he served as a lecturer at the University of Scranton, Marywood College, Pennsylvania Judicial College, the Pennsylvania Bar Institute, National Judicial College, Pennsylvania Trial Lawyers Association, the National Conference on Juvenile Justice and the American Judges Association. He served as chairman of the boards of directors of Marywood University and the University of Scranton.
His scholarly work was published in the Catholic University Law Review, Duquesne Law Review, Dickinson Law Paper and the American Judges Journal.
He served as chairman of the Friendly Sons of St. Patrick Scholarship Committee from its inception in 1984. These scholarships have permitted more than 30 students from the University of Scranton and Marywood to study in Ireland for at least one semester.
Ever an active member of the community, Judge Conaboy served as president of the Pennsylvania Trial Judges Association and the Friendly Sons of St. Patrick. He also served on the boards of directors of St.
Mary's Hospital, Mercy Hospital, Everhart Museum, Lackawanna United Fund, American Cancer Society, Boy Scouts of America and Scranton-Lackawanna Human Development Agency.
Judge Conaboy's community service was recognized by the University of Scranton with the award of an Honorary Doctor of Laws degree in 1983. Scranton Preparatory School awarded its highest honor, the Ignatian Award, to Judge Conaboy and his wife, Marion, in 1999. He was also granted the University of Scranton's Cyrano Award for service, the President's Medal by Marywood University and the President's Award by the Lackawanna County Bar Association.
The only thing more important than the law to Judge Conaboy was his family, and he integrated the two flawlessly. As he explained to a former law clerk, "Having 12 children of your own prepared you like nothing else to be a judge. You learn patience. You learn respect for opposing points of view. You learn tolerance. Parenthood is great training for the bench."
In family matters and in all aspects of his life, Judge Conaboy's wife of 68 years was his partner and confidante. Judge Conaboy often referred to Mrs. Conaboy as "my rock." Theirs was a love story as remarkable for its devotion as for its longevity.
He is survived by his seven daughters and five sons, Attorney Mary Ann Abrahamsen and husband, Attorney Edwin Abrahamsen; Richard P. Conaboy Jr. and wife, Suzanne Conaboy, R.N.; Judith Doherty and husband, Attorney James Doherty; Conan Conaboy, R.N., and wife, Theresa Conaboy; Michele O'Brien, Kathryn Moran and husband, Attorney Lawrence Moran; Dr. Patrick Conaboy and wife, Attorney Mary Kate Conaboy; Attorney William Conaboy and Mary Ellen Conaboy, Margaret Walsh, R.N., Janet Kelley, R.N., and husband, Attorney Eugene Kelley; John Conaboy and Lisa Conaboy, R.N., Nancy Casey, R.N., and husband, Attorney Patrick Casey; 48 grandchildren; 48 great-grandchildren; sisters-in-law, Kathy Abdalla and Margaret Conaboy; brothers-in-law, Daniel Hartnett and Walter Hartnett and wife, Shirley; and numerous nieces, nephews and cousins.
He was also preceded in death by a sister, Rosemary Hartnett; three brothers, Martin "Frank" Conaboy, the Rev. Conan Conaboy, C.P. and Ray Conaboy; two granddaughters, Patricia and Meghann Conaboy; and two sonsin-law, Michael O'Brien and Mark Walsh.
The funeral will be Monday, Nov. 12, with Mass of Christian Burial at 11 a.m. in Sacred Hearts of Jesus and Mary Church, 1217 Prospect Ave., Scranton, celebrated by the Rev. Scott Sterowski, the Rev. Bernard McIlhenny, S.J., and Monsignor Joseph G. Quinn with private interment at the convenience of the family. Friends may call at the church prior to Mass from 8:45 a.m. to 10:45 a.m.
Arrangements, Neil W. Regan Funeral Home Inc., 1900 Pittston Ave., Scranton, PA 18505.
To send online condolences, visit the funeral home website.